Music as a companion for the soul and the mind
Hermann Falke considered J. S. Bach, J. Hermann Schein, Samuel Scheid, Heinrich Schütz, Claudio Monteverdi, Johann Rosenmüller, Dietrich Buxtehude, Michael Praetorius and Franz Isaak amongst others as brothers in mind. As a student Hermann Falke wrote: "A tune can go deeper and express more than a word. The color of a tune can be more intensive than the color of a painting".
On his trips Hermann Falke often browsed through music stores searching for "his composers". It is difficult to find music of the Renaissance and the Baroque Era on vinyl. If he found it, he listened to it in a celebratory way; he experienced the music. For this purpose Hermann Falke designed his own "music room" in the "Old Mill" in Schmallenberg. At numerous exhibition openings and concerts the music of his "brothers in mind" was played to accompany his paintings.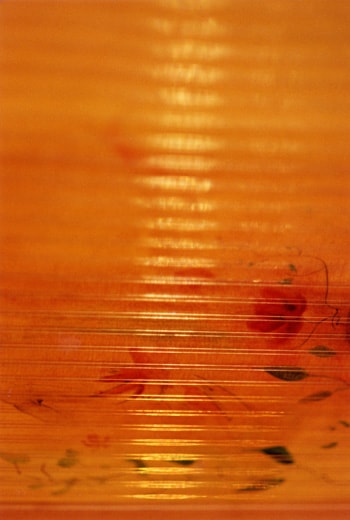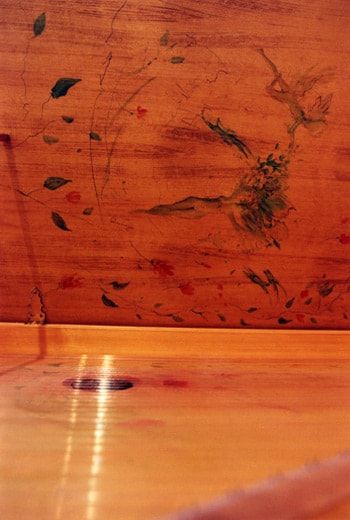 Soundtracks
The music echoed through the house.
You gently guided the brush.
Right into your inspiration.
You painted water-colors that made the invisible visible
and built your pictures.
Poem by Renate Falke "In the kingdom of Pan", page 39

Selection: 
2015, November 29, exhibition opening, "Hermann Falke BLAU_MODRO", Marlene Ullreich, Cembalo, Werner Berg Museum Bleiburg/Pliberk
2003, May 31, Concert Series ECHO. Exhibition opening, concert and lecture. "Hermann Falke Retrospective – Paintings 1948 – 1986", Hannes Gradwohl, Violoncello and Harald Kosik, Cembalo, Gallery-Galerija Falke Loibach
2002, June 1, Concert Series ECHO in the memory of Hermann Falke. Concert with Cembalo, Harald Kosik, Gallery-Galerija Falke Loibach
1999, July 25, Organ Music and Improvisations accompanying the paintings of Hermann Falke, 5th Concert of the XXII Summer Concerts of Wormbach, 1999, Ulrich Schauerte, Organ, Parrish Church of Wormbach
1999, June 2, Ensemble Hortus Musicus, Klagenfurt. Concert in Memoriam Hermann Falke, Gallery-Galerija Falke Loibach
1997, August 17, exhibition opening, "Hermann Falke Our life is just a Shadow", Mag. Jutta Prause, Cembalo. Gallery-Galerija Falke Loibach
1996, July 6, Concert with the Ensemble Pro Musica Tibicina Maribor. For 10th year of death of Hermann Falke und opening of the special exhibition "Hermann Falke 1933 - 1986", Galerie-Galerija Falke Loibach
1991, July 21, Madrigal Concert of the Vocal Ensemble Hortus Musicus, Klagenfurt. On the occasion of the 5th anniversary of Hermann Falke's death and as part of the exhibition "Hermann Falke Guardian of lost Time", Gallery Renate Falke – Reiner Kuhn Loibach the 10th anniversary of Hermann Falke and the special exhibition "Hermann Falke 1933 – 1986", Gallery-Galerija Falke Loibach
1989, May 12, Heinrich von Kalnein plays Three Poems at an X-hibition, Exhibition opening, "Hermann Falke Death knows no memory", Falke-Gallery Loibach
1988, June 5, Organ Music and Improvisations accompanying the works of Hermann Falke, Ulrich Schauerte, Organ, Parrish Church St. Alexander Schmallenberg
1986, July 6, Choral and Instrumental Music of the Early Baroque Era, Chamber Choir Schmallenberg, Instrumental Ensemble, Director: Ulrich Schauerte. This concert was dedicated to the painter Hermann Falke. 1st Concert of the IX Summer Concerts of Wormbach, Parrish Church of Wormbach
1986, November 30, Ulrich Schauerte Cembalo, Exhibition opening, "Hermann Falke 1933 – 1986 Last Works – Paintings and Graphics", Gallery Old Mill, Schmallenberg
1986, Requiem for Hermann Falke, Chamber Choir Schmallenberg, Director: Ulrich Schauerte, Organ: Ulrich Schauerte, St. Alexander Schmallenberg
1985, May 5, Marlies Schauerte Soprano and Ulrich Schauerte Cembalo, Exhibition opening, "Hermann Falke Water-Colors, Paintings in Chinese Ink, Oil on Zinc, Etchings", Heinz and Gisela Nawrath, Neheim Arnsberg
1982, September 5, Marlies and Ulrich Schauerte play Sonatas by W. A. Mozart, Exhibition opening, "Bergental-Falke-Schneider", DLA Fredeburg
1981, October 11, Orchestra of the Secondary School of Schmallenberg, Members of the Chamber Orchestra Schmallenberg, Director: Ulrich Schauerte
Exhibition Opening, "Hermann Falke, Schmallenberg", at the Town Secondary School Schmallenberg